Randy Cramer Snow & Lawn, Inc. is a fully insured residential snowplowing operation located in Baldwinsville, New York. For more than 40 years, we have served the communities North and East of Syracuse, offering exceptional service at competitive rates.
How do we do it?
When the snow piles up, we engage our fleet of more than 70 professional snow plowing subcontractors ("operators"), managers, and employees in the battle. Each operator is assigned to a dedicated route throughout the whole season, which is condensed to be geographically small for efficiency and manageability. Each territory has a manager who oversees in-field operations and makes sure their team is running smoothly, handling any issues along the way. Operators and managers have 2-way radios in their trucks for fast, effective communication between our office and their trucks. We have numerous backup vehicles, plows, and drivers available to cover breakdowns, illnesses, and anything else a CNY winter throws at us!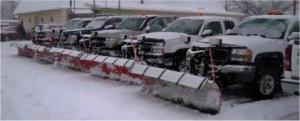 Our office is the hub of our operation. Residing near the center of our customer footprint, we are well-positioned to receive and dispatch our team. Utilizing a repeater-based radio system and backup tower, we can communicate directly, immediately, and simultaneously with our entire fleet. In short, the office is our "launchpad" for all business activities. This is also where we are positioned to receive customer calls, emails, snail mail,  direct operations, and outreach accordingly.
In-season, we regularly post any pertinent information on our website and can send geographically targeted emails for additional real-time updates. On days that we are plowing, we post the start times and the area being plowed. We will also post if we anticipate a second plow and the approximate starting time.
Before our plowing season, our operators will mark the edges of your driveway (as well as potential hazards) with wooden stakes. We strive to keep damage to a minimum, but when working with big-boy trucks and giant pieces of steel, it can still happen. As long as we are aware, we will repair any damage caused by our plowing in or after the season as appropriate.
Once we've gotten you safely to Spring, we may be able to help you take care of your year-round needs. We have several operators that have their own mowing, landscaping, sealing, painting, and construction businesses. Please visit our Partners & Service Providers page or contact us to learn more!
Our Company & History
Randy Cramer Snow & Lawn started in 1980. Back then, the company was Randy, his 1971 Dodge Snow Fighter and a mechanical Myers plow. He served 25 customers in Seneca Knolls that first winter. Through the years, he continued to add customers and plowing subcontractors, expanding into Radisson, Baldwinsville, Liverpool, Clay, Cicero, and North Syracuse. The once small business really began to thrive when Randy's wife Dawn joined in the mid-'90s,  complementing Randy's industry experience and knowledge with administrative sophistication and customer service. Always a family business, Randy's team has consisted of his daughter, Dawn's three sons, several in-laws, his grandson, and even his granddaughters (if you received a contract in the mail from us, you can thank Sage and Ellie).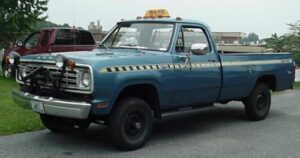 Dawn's oldest son Jason joined the team as a manager in 2012. Randy and Dawn semi-retired in 2018, but still remain involved (sometimes to Dawn's chagrin!). Upon their retirement, Jason took the family business over. Jason has a corporate background in marketing and business consulting. He graduated from Syracuse University with Bachelors degrees in Marketing and Advertising in 1998, and a Masters in Information Resources Management in 2002. He has employed those acquired skills and his family orientation in continuing the growth and development of the company.
Today, from our new facilities near Moyers Corners, we serve more than 4,500 customers. While we are no longer small in numbers, we value every customer like Randy did those first handfuls of customers in Seneca Knolls. In fact, some of them still remain our loyal customers! We constantly reinvest in equipment, facilities, personnel, and education to make sure we continue to rise to the needs of our customers. We feel that we are a semi-large business with a personal, small company feel.
We approach our work from a position of gratitude. This is very challenging, at times very stressful work, but we wouldn't exist to do it if it weren't for our customers. Hopefully, when you call, visit our website, or interact with our drivers, you sense that gratitude.  Thank you!